About Touchwood Models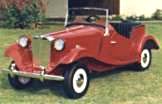 Touchwood Models was established in 1986 by Stuart and Rita Delf as a hobby/business producing 1:3 scale MG TD and Jaguar XK120 pedal cars.
These proved to be very successful with many customers in the UK and overseas.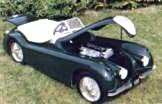 However, we have always been interested in record breaking, both cars and boats and in 1995 we made a 1:12 model kit of Bluebird K4, Sir Malcolm Campbell's record breaking hydroplane. This was later followed by K3 and finally K7. All these have been very popular.

During this time we were approached by Nigel Macknight to build the wind tunnel models for his Quicksilver Water Speed Record challenger, we are still very much involved with a number of our models on loan to the project.
We have recently introduced a 1:76 scale built model of Bluebird K7 into our range, this is mainly aimed at the Lake District tourist market.
We also produce our own range of 1:43 Scale Land Speed Cars and Water Speed Boats and we are always working on new models to add to this range.