Bluebird K7 1:43 Scale
The original concept for this all-metal jet-powered boat was conceived in 1952 when the World Water Speed Record was held by the American Stanley Sayres at 178.49 mph. After John Cobb's death in "Crusader K6", while trying to regain this record for Britain, Donald Campbell decided to have this new contender built for a fresh attempt.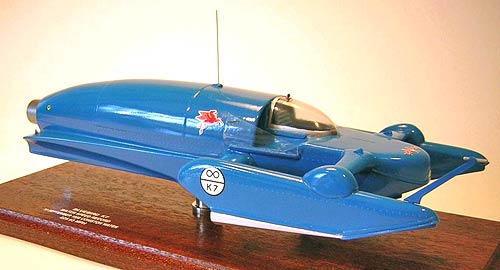 1956 Water Speed Record Bluebird K7
Designed by the Norris brothers, she was launched in January 1955 and broke the World Water Speed Record the following July, at 202.323 mph. By 1964, K7 had raised her own record six times to a speed of 276.30 mph. All these records were set using a Metro-Vickers "Beryl" turbo-jet engine, although various modifications were incorporated into the hull and sponsons during this time.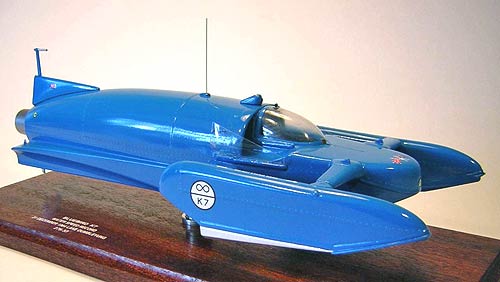 1964 Water Speed Record Bluebird K7
With the intention of surpassing the 300 mph mark, Campbell purchased a Bristol-Siddeley "Orpheus" turbo-jet engine and in late 1966, K7 was taken once more to Coniston Water in the English Lake District.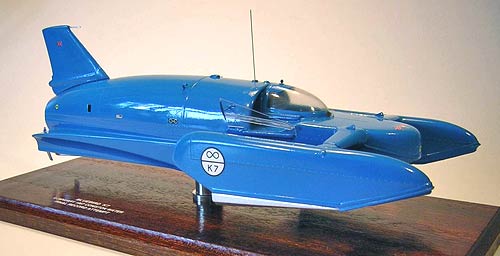 1967 Final Record Attempt Bluebird K7
On the morning of the 4th January 1967, Campbell made a one-way run of 297 mph and was travelling at about 320 mph on the return run when the boat became airborne, somersaulted and crashed back into the water. The boat was destroyed and Campbell was killed. Six months later, America regained the record when Lee Taylor's "Hustler" returned an average speed of 285 mph.
The Model kit now comes with a black perspex display base.
Kit Price: £95.00
Postage details:
| | |
| --- | --- |
| 1:43 Scale Boats | Kit |
| UK Mainland | £ 13.50 |
| Europe | £ 19.50 |
| Rest of the World | Please ask for latest postal charges. |