C Boat 1:43 Scale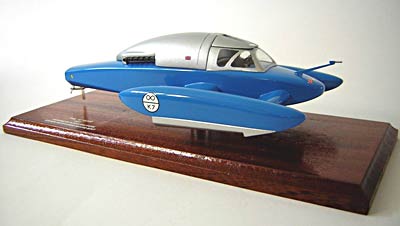 After K4 was damaged beyond repair on Coniston in 1951. Donald Campbell realised his only hope of going for the Water Speed Record was now gone. Stanley Sayers had pushed the record up to 170mph with his Slo-Mo-Shun IV. And John Cobb was having the jet powered Crusader built.
Donald was quite happy to let John Cobb get the record back for Britain, and after much discussion with the Norris Brothers it was decided to build a new boat to win the Halmsworth Trophy back from the Americans. After Cobb's unfortunate death on Loch Ness in Crusader Donald's attention once again turned to the World Water Speed Record.
Because of the extensive knowledge built up over the years with piston engines, the new boat was to be powered by a Rolls Royce Griffin 65 engine giving 2500hp, with a step up gearbox to turn the propeller at 14000 rpm. It was to be a 3 pointer supported at the front by 2 sponsons and at the rear by the prop in true prop rider style, the design speed was to be in the region of 212mph
Sanders-Roe carried out wind tunnel and water tank test at Osborne on the Isle of White during the early months of 1953, the results were encouraging. However Donald felt that the speed they were aiming at gave them little margin over Stanley Sayers record of 178.497mph and his attention turned to jet power and speed in the region of 240mph.
After Months of discussion with Sanders-Roe, who had never been happy with a jet powered boat. Donald decided to Part Company with them and he and the Norris Brothers would redesign the boat to take a Metropolitan Vickers Beryl turbo jet engine as we all know that boat was Bluebird K7.
Kit Price: £70:00

Postage details:
| | |
| --- | --- |
| 1:43 Scale Boats | Kit |
| UK Mainland | £ 13.50 |
| Europe | £ 19.50 |
| Rest of the World | Please ask for latest postal charges. |